Paul Fenech Elvis Alive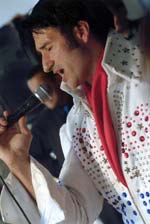 Elvis Alive is a professional Elvis tribute show, featuring Paul Fenech and his band. Based in Sydney, but regularly performing around Australia and the world, the show is available for private functions as well as public events.
If you read a brief history of Elvis Alive you will see Paul has always loved Elvis and enjoys nothing more than performing for audiences and giving them a taste of the King's magic. Paul sings all the songs, wears authentic costumes, and moves like Elvis did thanks to his karateexpertise.
Four Elvis' together!
Elvis: The Showcase was produced by Paul Fenech to add a different perspective for Elvis fans and to create a new dimension to Club auditorium Shows.
Paul explains. "I put myself in the shoes of Elvis Fans and Club managers, and entertainment agencies. We've seen just about every professional or semi-professional Elvis tribute act, but what about seeing them on stage together?"
"Clubs are looking for something different in the way of entertainment, and dont get me wrong, the Elvis club act continues to draw audiences. But it's been around for 27 years now and I think Elvis: The Showcase will start to redefine the Elvis tribute show and bring it back into the spotlight."
"So I got three Elvis', plus myself, together for a one off show that would give audiences the opportunity to see four Elvis' on stage together."