DJ Grizzly Adams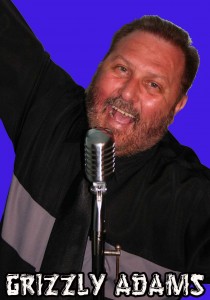 GRIZZLY ADAMS is the most popular and hard working DJ in Australia.  He was contracted to Sydney Radio KICK AM (2SM) as an on-air Presenter and resident Dance Ranch DJ, and was P & O's choice for a country DJ on their cruise ship the Fairstar.  He has appeared in television advertisements for Toyota Australia and Red Cross and made guest appearances on several television programmes.  He was also Compere and DJ for the Red Cross Baby Boomers Ball, a brainchild of Aussie great Marty Rhone. Currently employed by Vintage FM for afternoon shift daily from 1 – 4pm. This commercial station only caters to music from 40's to 60's. (Also 10am 'til 2pm Sundays)
Of late GRIZZLY is the DJ of choice at ALLPHONES ARENA (Formally Acer Arena), and has provided support for Dolly Parton, Roger (Pink Floyd') Waters' The Wall, Tim McGraw and Faith Hill and Prince as well as The Beach Boys, Guns and Roses and of late Toby Keith.  When it was still known as The Acer Arena he supported The Professional Bullrider's Association ('PBR') for their "After Parties". Which is still ongoing.  All this is a huge feather in his Akubra hat!
GRIZZLY has entertained many thousands of people across Australia.  He is annually booked for the entire ten days of the Tamworth Country Music Festival and was drive time on-air Presenter for Toyota's Festival FM Radio Station. For the last 18 years he has been resident Festival DJ/Compere/Presenter at West Tamworth League Club and West Diggers Club and in Tamworth as well as all over Australia has worked with the absolute cream of Australian talent.  He also worked with US Superstar LeAnn Rimes on her first visit to Australia.  When Australia Post were annually running their Largest Line World Record Attempt GRIZZLY was its DJ and co-ordinator and Tamworth Council chose him to host the Cavalcade on local radio and national television as it made its way down the main street, watched and cheered on by tens of thousands of supporters.
GRIZZLY for many years was annually booked for the Gympie Country Music Muster, conducting dance socials and other functions in the Muster Club as well as compering on the Main Stage before more than 75,000 people.  In Gympie in addition to Country there is great demand for Retro, Popular, Pub Rock and Top 40 music, so his versatility as a music DJ is all encompassing.  His extensive dance background stands him in good stead when he Comperes, Judges and DJs dance competitions for professional Dance Schools as well as the Federal Association of Teachers of Dance.