Rockin Eddy Band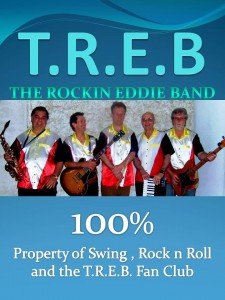 Formed in late 2010, The Rockin' Eddie Band, or T.R.E.B for short first appeared at the Biggest Indoor Rock n Roll event in September 2010. T.R.E.B's aim is to accomodate all forms of 40s, 50s, and 60s classic dance steps.
The style of music performed by T.R.E.B varies to say the least – from swing, rockaabilly, country and jazz, T.R.E.B plays it all.
We love hearing your feedback and we enjoy playing songs that you request, so come say "Hi", introduce yourself and let us know what your favourite song is; we'll do our very best to incorporate it into our next platlist!
T.R.E.B perofmring at the Biggest Indoor Rock n Roll Event: