No Brakes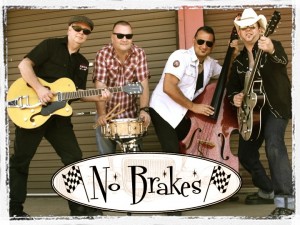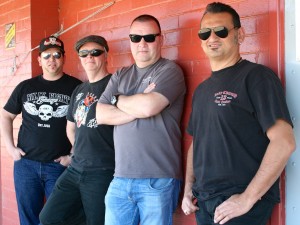 Sydney based band No Brakes are having a ball this year playing their unique brand of rock n' roll, rockabilly and country with an infectious energy that fills the dance floor and simply feels good! Drawing on a great wellspring of music from the 50's they balance tradition and innovation to produce a sound that is retro on rocket fuel!
The recipe is refreshingly straight forward with no bells, mirrors or computers – just four musicians who are passionate students of this era and deliver with enthusiasm.
Lead vocals in the style of early Elvis, with moves to match, Big Double Bass slapped within an inch of it's life, sizzling Gretsch guitar in the style of the Stray Cats and real drums played with perfect dance tempos.
     What may not be expected for a band of this genre is the colour of three different voices up front, this is a point of difference in the marketplace and certainly adds interest. No Brakes have experience playing for the dance floor and in concert mode with experience in venues such as clubs, pubs, theatres, festivals and corporate settings.  The beauty of the repertoire is that it has wide appeal, is family friendly and a fresh flavour in festival or corporate settings – in the hands of these guys it has a power to make people loosen up and smile.