Rebel Rousers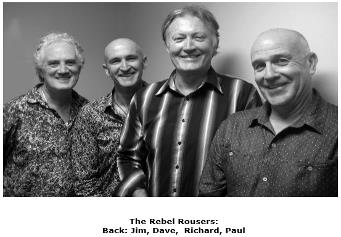 "The Rebel Rousers" aren't just 'another' Rock & Roll band. They are a band that plays Rock and Roll as part of their ever expanding repertoire.
What sets the band apart from others is their versatility and professionalism, with the ability to mix their music up depending on the audience.
This is a major key to their continuing success. Their main focus is to entertain and make it a fun time for everybody.
The band members have had many years of various musical experiences between them. Their musicianship, mixed with crystal clear harmonies, have made them a very popular and much sought after band, playing in many different venues up and down the east coast and beyond. (Too many to list).
The band consists of four seasoned musicians, each bringing their own special talent for your entertainment.
The Band
w Jim ("sticks") Heywood Drums and Vocals
w David Lake Bass Guitar and Vocals
w Paul Cummings Rhythm Guitar and Vocals