DJ George Houndog Galea
DJ GEORGE HOUNDOG GALEA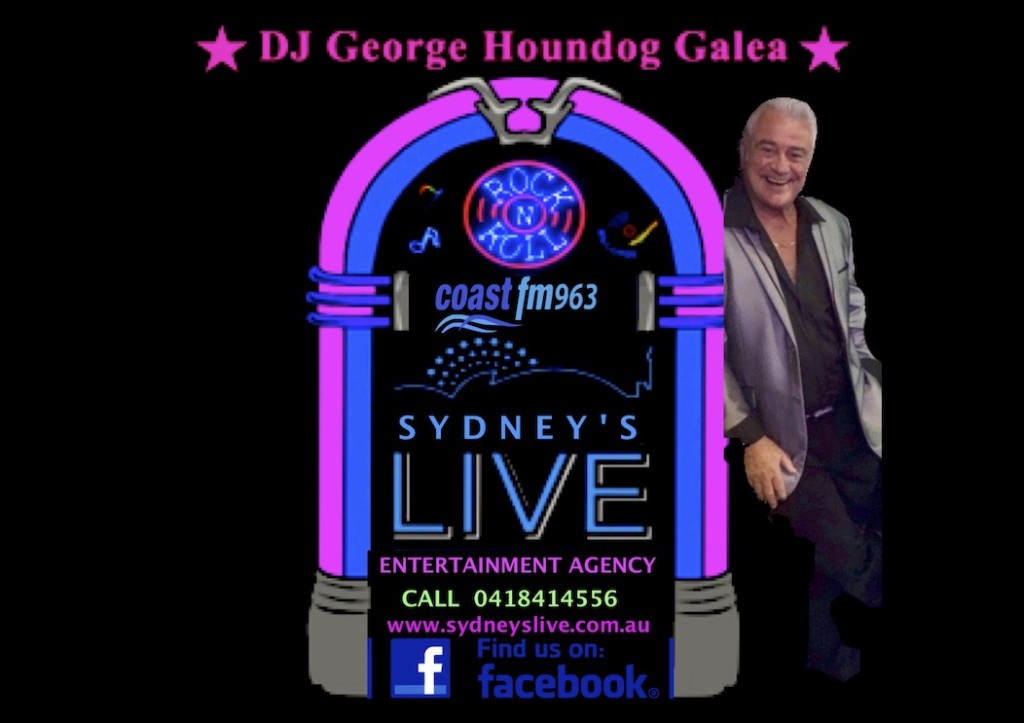 George Galea has been in the Entertainment Industry since 1976 starting out as a young and humble DJ working in local Venues in the Eastern Suburbs of Sydney.Through the late 70's and the 80's George kept people dancing while DJ in such Club's as IDAS Disco Kings Cross, African & Queen St Lenard's just to mention a few.Since then George has transgressed from being Sydney's No 1 Rock N Roll DJ. A Professional Compare, Announcer, Rock N Roll Dancer Teacher / Instructor and at one stage with classes in five different locations within the Sydney Metro Area.'Houndog' as he is known in the Rock N Roll Industry is full of Energy and his collection of Classic Hit's will take you back to the HAPPY DAY'S OF ROCK N ROLL.  
Present & Past Experiences:
Classic Hits & Memories Club Liverpool and Club Merrylands, Coast FM 96 3 Rock N Roll Dance Party, Rock N Roll Chromfest Festival since 2013, Rock N Roll Entertainment Cruise Liners, Radio Station Voice-Over's, DJ for The Red Cross Baby Boomers Ball, performed at Footbridge Theatre, performed at The Seymour Centre, Compared the Parks Elvis Festival. Darling Harbour Australia Day with O" 55 Choreograph Dancers for Buddy Holly Show & Gina Jeffrey's Dancing with Elvis Film Clip. WSFM Wednesday Night Juke Box.
When you want Rock N Roll George 'Houndog' Galea Is your MAN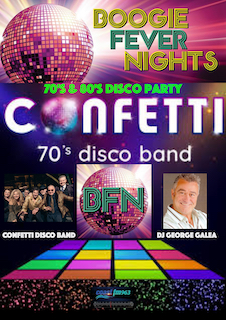 Our Boogie Night's 70's & 80's Dance Party is designed to attract Lovers of the best Era of All with Flares, Afros, Platform shoes and Bell bottoms, the crazy 70's & 80's fashion is revisited to keep the dance floor full all night long.
Boogie Night's has been a long time coming all put together by one of the original DJ's from the 70's known back then as The Disco Kid our own DJ George Galea Playing all the classic tunes through the 70's and the 80's George kept people dancing while Spinning the Platters At Disco's such as IDAS Disco Kings Cross, African & Queen St Lenard's Paddington Green just to mention a few. Our Host Miss Pinky Presenter from Coast FM Soundtrack of The 80's with Coast FM Prizes and Giveaways.
Straight from the vaults of time and onto the stage to unlock your most fond, forgotten memories comes the BOOGIE NIGHTS BAND who take to the stage and NEVER let the dancing stop! With a line up holding some of the most formidable Musicians who have ever time travelled – THE BOOGIE NIGHTS BAND will give audiences an unforgettable experience as they
WOW everyone into the wee small hours playing HIT after memorable HIT. Let the BOOGIE NIGHTS BAND and The Team loose and your Nights and Life will just NEVER be the same!!
See you all under the MIRRORBALL.
Contact
Sydney's Live Entertainment Agency Phone: 0418414556
Email: george@sydneyslive.com.au Website: www.sydneyslive.com.au Find Us on Facebook